As I work on teaching my daughters
how
to think logically and reason through issues independently, the world is busy trying to teach them
what
to think. Marketing and media are rife with false promises and flawed information. How can I teach my girls to see through it to the truth?
Classical Academic Press
offers a solution in
The Art of Argument: an Introduction to the Informal Fallacies
.
In this study geared toward seventh to ninth graders, your children will learn the 28 basic fallacies used to sway opinion. Fallacies are false impressions presented as truth in order to convince someone to buy something, use something, vote a certain way, dress a certain way, etc. Common fallacies prey on fear, compassion, envy, and other strong emotions rather than logic. Sound familiar? Just think about the cute babies or puppies used to sell everything from cars to toilet paper.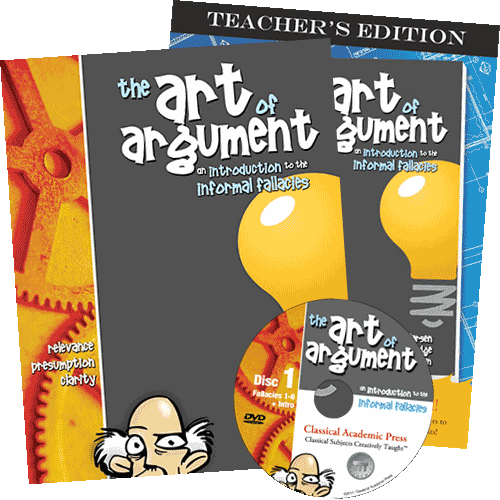 We received the
student textbook
($21.95) and
Teacher's Edition
($24.95). There is also a
set of DVD's
to accompany this series available for $54.95. The
basic bundle
of
The Art of Argument
student book, teacher edition, and DVD can be purchased for $88.95. Although Big Sis (10) is younger than the suggested age, she grasped the concept quickly and actually enjoyed pointing out fallacies she saw in everyday life. I'm not going to say that she's naturally argumentative, but let's just say that she'd make a good lawyer one day. Using the word
argument
does not mean fighting or disagreeing, but rather logically refuting false information and ably making a point for truth. That is a wonderful skill to have in life, especially as Christians who are called to defend our faith in a world of unbelievers.
This is one of those resources that I didn't know I needed. It's definitely something I want to teach my girls, but my focus is always on the basic foundation of their education, so resources like this can be overlooked while searching for reading, writing, and arithmetic type curricula. I am so glad to have the opportunity to use this in our studies.
I respect the ideals of Classical Academic Press and believe they offer quality resources. They also offer a Latin program (
Song School Latin
) and a next step in the logic series called
The Argument Builder
. I would highly recommend their products to other homeschooling families, particularly those interested in a classical education.
You can find Classical Academic Press on
Facebook
, as well.
You may read more reviews at the
TOS Crew blog
.

Disclaimer: I received The Art of Argument set
at no cost for review purposes. No other compensation was given for my honest opinions.